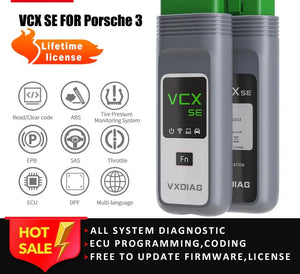 The Top 10 Reasons to Choose VCX SE Device for Porsche 3:
1. Support Year 2005-2023 for Porsche, Coverage All Regions.
2. Support ECU Programming & Coding.
3. Full System Diagnostic tool.
4. Support Multi Special Functions (Airbag Reset, EPB/SAS/BMS/TPMS/DPF and etc.)
5. Support Active Test, Auto Read VIN, Read & Clear Diagnostic Trouble Code, like the original device
6. Support to Unlock Hidden Function, Read Live Data Stream, Read Freeze Frame, Update Module System .
7. It is a Lifetime License, Free to Update License
8. Support J2534 Protocol.
9. Support Remote Diagnostic Function
10. Support USB and WIFI Connection.
All System Diagnostic
By penetrating all available ECUs, including but not limited to PCM, ECM, EPS, PDM, TPM, BCM, ABS, SCCM, etc., VCX SE retrieves information and performs OE-level diagnostics on all available vehicle systems, like read and clear codes, view data stream and freeze frame and read vehicle information, ECU Replacement. It not only enables you to troubleshoot promptly but also makes you customize the configuration.
ECU Programming
VXDIAG VCX SE automotive diagnostic tool has the capability to program new ECUs or reflash old modules like ECM, PCM, BCM and etc after replacement for the car models to solve issues like drivability, power loss, fuel efficiency and fault codes.
Advanced ECU Coding
VCX SE advanced diagnostic tool comes with advanced ECU coding to make full use of the hidden features like auto park, tilting rear-view mirrors, unfolding mirrors, customizing daytime running light, disabling auto engine start-stop and etc depending on the electronic features already built-in.